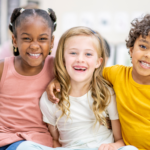 Learning Spanish can help children build self-esteem in multiple ways. By improving communication skills, fostering cultural understanding, and providing educational benefits, children can feel more confident and proud of themselves. This can have a positive impact on their overall development and well-being.
Here at Ready For Spanish we introduce children and families to Spanish through our online learning program for kids and families. When you learn Spanish with us your child can benefit from the following:
Improved communication skills: Learning Spanish can help children develop better communication skills and make them more confident in expressing themselves. Spanish is the second most widely spoken language in the United States and is also spoken in many other countries around the world. Knowing Spanish can open up many opportunities for children to communicate with a wider range of people, both domestically and internationally.
Cultural understanding: Spanish is the primary language spoken in many countries, and learning the language can give children a deeper understanding of the culture and customs of these places. This knowledge can help children develop a sense of pride in their heritage, or curiosity about other cultures. This can also lead to an open-mindedness and empathy towards different cultures, which can help build self-esteem.
Educational benefits: Learning a second language can also have educational benefits. Studies have shown that bilingual children tend to have better cognitive development and problem-solving skills. These skills can be translated to other subjects in school, leading to improved academic performance. This can help boost self-esteem and confidence in the classroom.
Ready to start your family's Spanish learning journey? Click here to claim your family's free lesson.