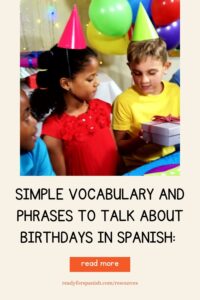 Birthdays are a special time, and what better way to make them even more memorable than by introducing your kids to a new language and cultural traditions?

Learning a few simple Spanish words and phrases can be a fun and easy way to do just that. Here are some easy Spanish vocabulary and phrases to teach your kids when celebrating a birthday:

Feliz cumpleaños – Happy Birthday

Pastel – Cake

Regalo – Gift

Vela – Candle

Fiesta de cumpleaños – Birthday party

These words and phrases are simple enough for kids to learn and use, and can add a special touch to any birthday celebration. But why stop there?

You can also introduce your kids to a Mexican birthday tradition called las mañanitas.

Las mañanitas is a beautiful song traditionally sung in Mexico to celebrate someone's birthday. It is typically sung early in the morning, either by family members or by a mariachi band. The lyrics of the song are personalized to the person celebrating their birthday and express love, gratitude, and well wishes.

By teaching your kids the lyrics to las mañanitas, you can not only introduce them to a new cultural tradition but also teach them a new language in a fun and engaging way. Here's a sample of the lyrics:

"Estas son las mañanitas que cantaba el Rey David
Hoy por ser día de tu santo te las cantamos aquí
Despierta, mi bien, despierta
Mira que ya amaneció
Ya los pajarillos cantan
La luna ya se metió"

Translation:

"These are the morning songs that King David used to sing
Today, on your saint's day, we sing them for you here
Wake up, my dear, wake up
Look, the day has dawned
The birds are already singing
The moon has set"

Introducing your kids to simple Spanish vocabulary and phrases when celebrating a birthday is a great way to teach them a new language and expand their cultural knowledge. And with the addition of las mañanitas, you can make any birthday celebration even more special and memorable. Feliz cumpleaños!