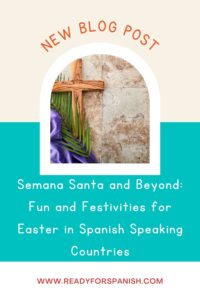 Easter is a time of celebration, reflection, and renewal in many parts of the world. For Spanish speaking countries, this time is especially significant, as Easter is a time of great cultural and religious importance. From processions and parades to feasting and family gatherings, Easter traditions in Spanish speaking countries are diverse and vibrant.

Semana Santa in Mexico

Semana Santa, or Holy Week, is one of the most important times of the year in Mexico. Throughout the week, there are processions, parades, and reenactments of the Passion of Christ. On Palm Sunday, people carry palm fronds in a procession, symbolizing the entry of Jesus into Jerusalem. On Maundy Thursday, people reenact the Last Supper, with many families gathering together to share a meal. On Good Friday, there are reenactments of the crucifixion, with participants dressed as Roman soldiers and carrying a cross. Easter Sunday is a day of joy and celebration, with traditional foods like sweet bread, hot chocolate, and chocolate eggs.

Semana Santa in Spain

In Spain, Semana Santa is celebrated with elaborate processions and parades. The city of Seville is particularly famous for its Semana Santa celebrations, which feature huge floats depicting scenes from the Bible. Throughout the week, the streets are filled with music, color, and pageantry. On Good Friday, there is a particularly moving procession called La Madrugada, which takes place in the early hours of the morning.

Easter in Puerto Rico

In Puerto Rico, Easter is celebrated with a week-long festival called La Semana Santa. The celebrations start on Palm Sunday, with a procession featuring children carrying palm branches. On Good Friday, there is a solemn procession through the streets, with people carrying crosses and statues of Jesus. Easter Sunday is a day of feasting, with traditional foods like arroz con gandules (rice with pigeon peas) and lechón (roast pork).

Easter in Argentina

In Argentina, Easter is celebrated with family gatherings and traditional foods. One of the most popular dishes is Rosca de Pascua, a sweet bread ring decorated with candied fruits and nuts. On Easter Sunday, many people attend church services, followed by a family meal. In some regions, there are also traditional dances and music performances.

Should You Visit During Easter?

If you're interested in experiencing the rich cultural traditions and celebrations of Easter in Spanish speaking countries, it can be a wonderful time to visit. However, it's important to be aware that this is a very busy time for travel, and popular tourist destinations may be crowded and difficult to navigate. It's also worth noting that some businesses and attractions may have limited hours or be closed during this time. With some planning and preparation, however, you can enjoy a memorable Easter celebration in one of these vibrant and diverse countries.